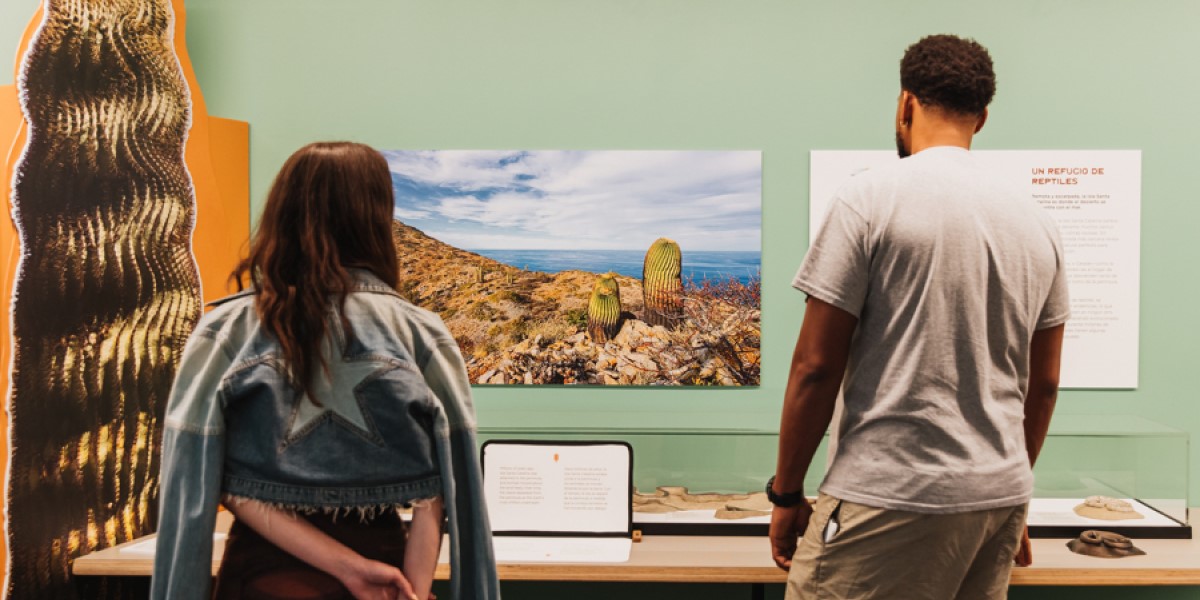 Conserving one of the most amazing places on Earth.
The Baja California Peninsula is one of the most special places in the world. Surrounded by the Pacific Ocean on the west and the Sea of Cortés on the east, this 775-mile-long peninsula has a warm climate and diverse terrain, ranging from coastal sand dunes and rugged mountain peaks to desert flats to isolated islands. The varied landscape supports an amazing diversity of plant and animal life—towering cardón cacti, islands crowded with breeding birds, and insects and arachnids with special adaptations to cope with life in the dunes.
The peninsula has been a magnet for adventurers and naturalists, including our own researchers who have been exploring and studying the region for more than a century. Go on an expedition with our scientists as they work alongside colleagues in Mexico to conserve one of the most amazing places on earth.
A new exhibition about your favorite part of the Baja California Peninsula: all of it.
Using specimens from the Museum's scientific collections alongside immersive imagery and stories about conservation work happening there, Expedition Baja brings to life one of the most incredible regions in the world.
At home in a brand-new gallery on the top floor of the Museum, this new permanent exhibition takes visitors off the beaten path on a journey with researchers through sky and sea islands, palm oases, and fog deserts as they discover new species, work to conserve native plants and animals, and explore the most remote parts of the peninsula.
Exhibition highlights:
An immersive diorama featuring the otherworldly succulent plants of the peninsula's central deserts, including a life-sized cardón cactus and boojum tree.
Specimens that showcase some of the area's rare, native species, including the Isla Santa Catalina rattlesnake, the newly rediscovered San Quintin kangaroo rat, and the extinct Guadalupe caracara.
Stories about researchers from Mexico and the U.S. (including from The Nat) who are studying and conserving the region, and a glimpse at the tools of their trade.
See how the peninsula's habitats have changed over time, and what we can do to help sustain the plants and animals that live there.
A stunning mural created by Tijuana-based artist Néstor "Spel" Mondragón, inspired by the stories in the exhibition.
In keeping with the Museum's binational focus, all information in Expedition Baja is presented in both English and Spanish.